Rosella's Vineyard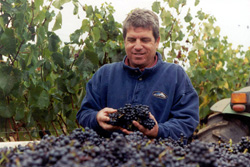 Gary Franscioni
Situated in the center of the Santa Lucia Highlands appellation is Gary Franscioni's Rosella's Vineyard. With perfect southeast exposure, the 50 acres of vineyard were planted over the course of seven years (1996-2003). Gary incorporated seven clones of Pinot Noir, three clones of Chardonnay, and two clones of Syrah, all on two different rootstocks, to create one of the most complex vineyards in California.
Other than the fact that Gary is one of the world's premier wine grape growers, the flavors emanating from Rosella's Vineyard can be traced to two other important factors: soil and climate. The deep Arroyo Seco sandy loam soil that lies beneath the vineyard provides a hospitable home for the vines at Rosella's. Gary farms the vineyard on a vine by vine basis, making sure that each vine's root system is well-established before allowing a crop to hang. These same soils could easily ripen a crop three times the size of Rosella's typical two to three tons per acre, however Gary chooses to keep the tonnage low to make sure the terroir of Rosella's comes through in each cluster.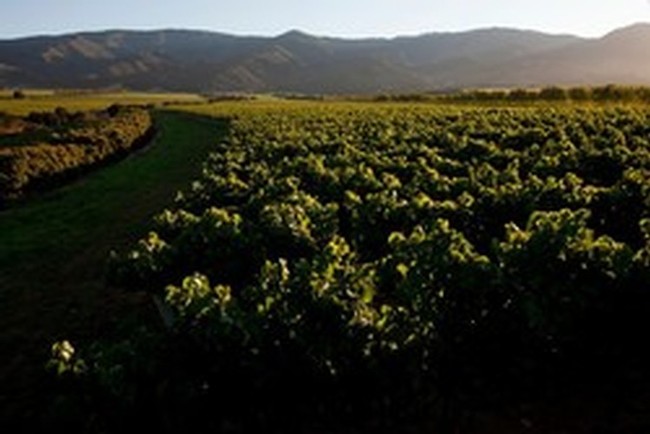 Rosella's Vineyard at the foot of the Santa Lucias
Nearby Monterey Bay holds an immense influence over the weather at Rosella's Vineyard. Typical growing days are marked by dense fog in the early morning hours followed by bright, mild sunshine just before noon. By mid afternoon a strong wind originating from the bay picks up and blows through the north-south rows at Rosella's, cooling the vines down and blanketing the vineyard in fog around dusk. Each of the three grape varieties grown at Rosella's seem to thrive in this cool weather, particularly Pinot Noir.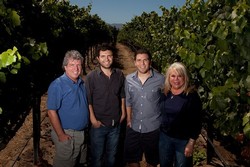 Gary, Adam, Nick and Rosella Franscioni at Rosella's
Gary Franscioni is a lifelong resident of Gonzales, California, and has been farming a variety of crops since graduating from Cal Poly, San Luis Obispo. His passion for wine led to his planting Rosella's Vineyard in 1996 and Garys' Vineyard in 1997 with his childhood friend Gary Pisoni. His own wine label, ROAR, keeps Gary busy with winemaker dinners and sales trips whenever he takes an occasional day off from tending the vines. Gary and his wife Rosella (actually the fourth partner in August West) live at the Rosella's Vineyard with their two sons Adam and Nick.