Graham Family Vineyard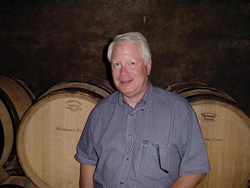 Howard Graham tasting barrels at DRC.
The Graham Family Vineyard is located in the heart of the Russian River Valley appellation, between the towns of Forestville, Sebastopol and Graton. Howard Graham found the site for his vineyard in 2001, hired vineyard manager Charlie Chenoweth, and began planting in the spring of 2002. Howard and Charlie chose Pinot Noir clones 667, 777, 828, Swan and Calera in order to cover a wide spectrum of Pinot flavors.
Although the Russian River Valley appellation covers a large area in western Sonoma County, the Graham Family Vineyard lies in a small sub-appellation called Green Valley. Years ago when the neighboring winery Iron Horse planted their vineyards, it was thought that Green Valley was the coolest place in California where Pinot Noir would ripen. Fewer than 10 miles to the west of the vineyard lies the Pacific Ocean, so it is no surprise that the amount of sunshine during the growing season is equaled by cooling sea breezes and layers upon layers of fog.
Beneath the Graham Family vineyard is a deep layer of Gold Ridge sandy loam soil. This is the soil which supported the ubiquitous apple orchards of the region for the past 100 years, until the Pinot Noir planting boom of the late 1990s replaced many of those orchards. Gold Ridge is unique in its water-holding capacity and its ability to allow vines to be dry-farmed within two to three years of being established. The Graham Family vineyard is set up with a modern drip irrigation system, but there hasn't been much of a need to use the system thus far. The young vines' roots have found a good home in the Gold Ridge soil.
Howard Graham retired from his career as a financial executive in 2000 and immediately began working with his interests in wine and food. In the fall of 2000 Howard was a vintage intern at Testarossa. Howard lives in Monte Sereno, California with his wife Linda and children Christina and John.