Peterson Vineyard
August West partner, John Peterson, purchased his 9.8 acre vineyard in 2010 while it was only in its second year of production. Peterson Vineyard lies less than one quarter of a mile southeast of Rosella's, on River Road, right in the heart of the Santa Lucia Highlands appellation. There are five Pinot Noir clones planted there, 828, 667, Pommard, 777 and 115. An acre of Chardonnay was planted in 2011 and we harvested it for the first time in 2015.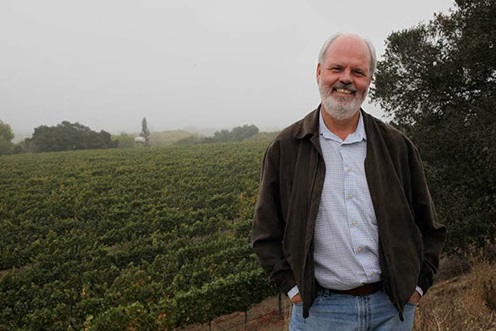 John at the vineyard on a typically foggy day.
John and his wife Lynn not only own the Peterson Vineyard, but they have planted another property in the Santa Lucia Highlands much higher in elevation, a few miles farther south on River Road. The new vineyard should be in production by 2016 and it is planted to Pinot Noir, Chardonnay, Syrah and Viognier.