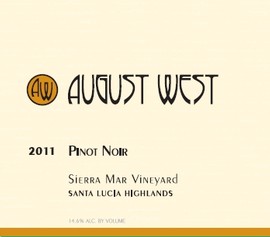 2011 Sierra Mar Vineyard Pinot Noir
2011 was our second vintage ever at Gary Franscioni's Sierra Mar Vineyard. Gary planted Pinot Noir, Chardonnay, Syrah and Viognier on this spectacular site overlooking the Salinas Valley starting in 2007. August West now gets some of the Swan selection and clone 23 Pinot Noir from Sierra Mar.
Since Sierra Mar sits up at 1,000 feet in elevation and is far enough south in the Santa Lucia Highlands, it does not see all the Monterey Bay fog and wind that vineyards like Rosella's and Garys' put up with on a daily basis in the summer. Also, in vintages like 2011 when we saw below normal temperatures in most of the SLH, Sierra Mar sat above the fog some of those days and got up to near normal highs. So ripening at Sierra Mar wasn't as delayed as it was in most of the appellation.
Our 2011 Sierra Mar is made up of one third Swan selection and two thirds clone 23. The clone 23 portion was fermented with 100% whole clusters, stems and all. This gives the wine much more tannin than a destemmed version of the same grapes would. And although there's such a high percentage of whole cluster in the '11 Sierra Mar, it's not overly tannic, and is actually softening up nicely in early 2013. There are aromas of plums and toast with a huge mouthful of ripe berry fruit that follows. Tannins do add a nice framework to the finish, but this 2011 Sierra Mar has so much fruit and spice, the tannins do not detract at all. Expect this wine to be at its best between 2015 and 2021.
Wine Specs
Appellation
Santa Lucia Highlands
Vineyard Designation
Sierra Mar Vineyard
Harvest Date
9-24 and 10-14-11
Wine Profile
Production
129 cases produced.
---