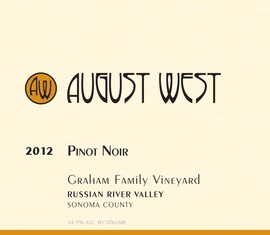 2012 Graham Family Vineyard Pinot Noir
In the 9 vintages we have harvested Pinot Noir at the Graham Family Vineyard, 2012 was one of only two years where we saw a large crop, the other year being 2006. The weather in 2012 was ideal for Pinot in the Russian River Valley, right from budbreak through the fall, with few extremes in temperature, sun vs. fog, and unexpected rainfall.
The 2012 Graham is a blend of clones 23, 667, 777, and 828. Clone 23 is a Swiss clone, also known as Mariafeld, while 667, 777 and 828 are all Dijon clones. Each clone performs differently at Graham. Clones 23 and 828 both have long, loose clusters of Pinot, but 23 has much higher acidity and lower tannin than 828. 667 and 777 have the typical small, fist size Pinot clusters, but 667 is usually more tannic and restrained at Graham than the lively and fruity 777.
With an intriguing nose of Russian River Valley Pinot Noir spice, blackberries, toast and mint, the 2012 Graham Family Vineyard Pinot Noir opens up beautifully on the palate. It has a rich, soft texture, filled with fruit, while the balancing acidity and ripe tannins come into play during the finish. It should be at its best between 2015 and 2023.
Wine Specs
Appellation
Russian River Valley
Vineyard Designation
Graham Family
Aging
10 months in 50% new French oak
Fermentation
100% destemmed, 25 days on the skins
Wine Profile
Production
214 cases produced.
---