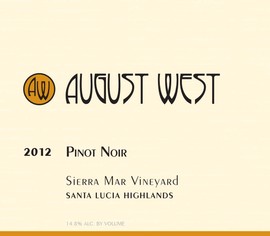 2012 Sierra Mar Vineyard Pinot Noir
Of the 5 vineyards August West works with, Sierra Mar was the only one that ended up with a close to "normal" yield in 2012. All other vineyards were above normal in crop load. We received two different clones from the young Sierra Mar Vineyard, Swan and 23 (a.k.a. Mariafeld). The Swan was 100% destemmed, and the 23 was split up into two lots, a whole cluster portion and the rest destemmed. The final blend worked out to be slightly lower in whole cluster than the 2010 and 2011 Sierra Mars, but that doesn't mean we're not going to keep experimenting with whole cluster in years to come.
As usual, the 2012 Sierra Mar Vineyard Pinot Noir is the darkest of our six Pinots from the vintage. It starts off with a closed nose of toast, sage, and fresh chanterelles, but with aeration revels some ripe blackberry aromas deep within. The palate is the biggest and ripest of our line up, with fairly high tannin, low to moderate acidity, chocolate, cola and ripe plum flavors. This 2012 Sierra Mar needs some time in the cellar, give it until late 2015 and enjoy it through 2024.
Wine Specs
Appellation
Santa Lucia Highlands
Vineyard Designation
Sierra Mar
Harvest Date
9-24 and 10-4-12
Aging
10 months in 33% new and 67% one year old French oak
Fermentation
33% whole cluster, 67% destemmed, 21 days on the skins
---