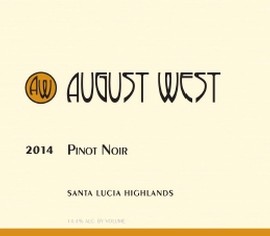 2014 Santa Lucia Highlands Pinot Noir
2014 was an interesting year for California grape growing. We entered our 3rd year of record drought not knowing what would become of the vineyards throughout the season. Some sites miraculously gave us near record amounts of Pinot, while others produced a small harvest of highly concentrated fruit. For our 2014 SLH, Rosella's yielded a bumper crop, Sierra Mar was slightly below average, and Peterson saw the strongest effects of the drought with only around 1.5 tons per acre. The most interesting thing about the small harvest at Peterson was not because of a lack of water for the vines, but because the deer couldn't find their normal food source since there was so little ground water. They decided the green shoots at Peterson were a good substitute, and thus we didn't have enough of a canopy to support a decent crop.
Our 2014 Santa Lucia Highlands Pinot Noir contains 46% Sierra Mar, 33% Rosella's and 21% Peterson Vineyards. 2014 was such a ripe vintage, it's difficult to find any hard tannins in the wine, even with its 40% whole cluster fermentation. At this young stage in its development, the toasty oak comes through on the palate, mixed with subtle dark berry flavors. We anticipate the best drinking window on the '14 SLH Pinot to be 2016 to 2024.
Wine Specs
Appellation
Santa Lucia Highlands
Harvest Date
9-3 to 9-23-14
Aging
10.5 months in 21% new French oak
Fermentation
40% whole cluster
---