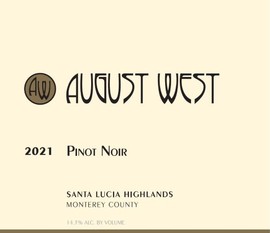 2021 Santa Lucia Highlands Pinot Noir
2021 was a "back to normal" vintage for the Santa Lucia Highlands appellation after the disastrous fire season of 2020. August West didn't make any SLH wine in 2020 because the smoke hovered over the vines for 10 straight days and affected the flavor of the grapes. It was the first vintage in our 20-year history when we didn't make a single wine from the area.
Our 2021 Santa Lucia Highlands Pinot Noir shows classic, cool-climate aromas with black cherries, elderberries, loamy earth, and cinnamon. Surrounded by an abundance of perfectly ripe berry flavors, the palate shows plenty of fresh acidity. The finish is incredibly long which predicts a good future for this wine. Plan on cellaring this until 2023 and enjoy it through 2032.
Vineyards: Cortada Alta and Peterson
Harvest dates: 9-16 and 10-12-21
Fermentation: 100% destemmed, 20 days in the fermenter
Aging: 10 months in 100% French oak
Bottling date: 7-13-22, 345 cases produced
Alcohol: 14.3%
---